Fast capacity for less.
Whether you are trying to get in the game faster or store all your precious memories, the Crucial P1 SSD delivers. Capacities start at 500GB and scale to 2TB. Accelerate performance with the latest NVMeTM PCIe® technology. The P1 is designed to be the only storage upgrade you need — storage, speed, and dependability. Accelerate everything.
Capacities up to 2TB with sequential reads/writes up to 2,000/1,750 MB/s
NVMeTM PCIe interface marks the next step in storage innovation
Micron® 3D NAND – advancing the world's memory and storage technology for 40 years
5-year limited warranty1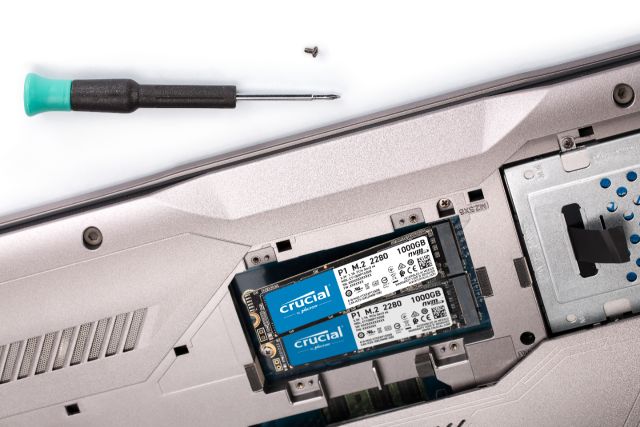 Room to Spare
Securely load and store up to 2TB of important files on Micron NAND in a tiny M.2 form factor.
Vital Performance
NVMe PCIe technology delivers sequential read/write speeds up to 2,000/1,750 MB/s so work gets done faster.
Lasting Value
The Crucial P1 SSD is designed to be the only storage upgrade you'll need with an affordable blend of performance and capacity.
One of the Largest Storage Manufacturers Worldwide
Crucial is backed by Micron's expert quality and engineering innovation. Micron has produced some of the world's most advanced memory and storage technologies for 40 years.
1. Warranty valid for five years from the original date of purchase or before writing the maximum total bytes written (TBW) as published in the product datasheet and as measured in the product's SMART data, whichever comes first.